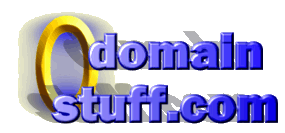 ---
0domainstuff.com domain name Search
.com .net .org .us .info .biz
Welcome to the World Wide Web - Your doorway to the world!
Choose a domain name. Use only letters, numbers, or dashes ("-"). Domain names can not begin or end with a dash. Names cannot be more than 63 characters in addition to the extension (.com, .net, .org, .us, .info, .biz) 67 total. The extension is 4 characters.

Choose a domain extension. Pick your desired top-level extension (.com, .net, .org, .biz, .info). ".com" is generally used for commercial sites. ".net" internet related sites. ".org" usually non-profit. However, your may register in any or all three extensions regardless of the type of site you want. Currently ".com" is the most valued but most businesses register their names in all three extensions. They also sometimes register the variations of the spelling. These measures are taken to keep competitors from riding on the coat tails of their hard work.

Click GO! Click the "Search Now" GO button to begin your search. The search is FREE and you may search as often as you would like. If your domain name is available, you will be able to register it right away, using our secure online registration form. If the domain name is taken, you can see information about the current registrant. If not available just choose another domain name and submit another search.
---